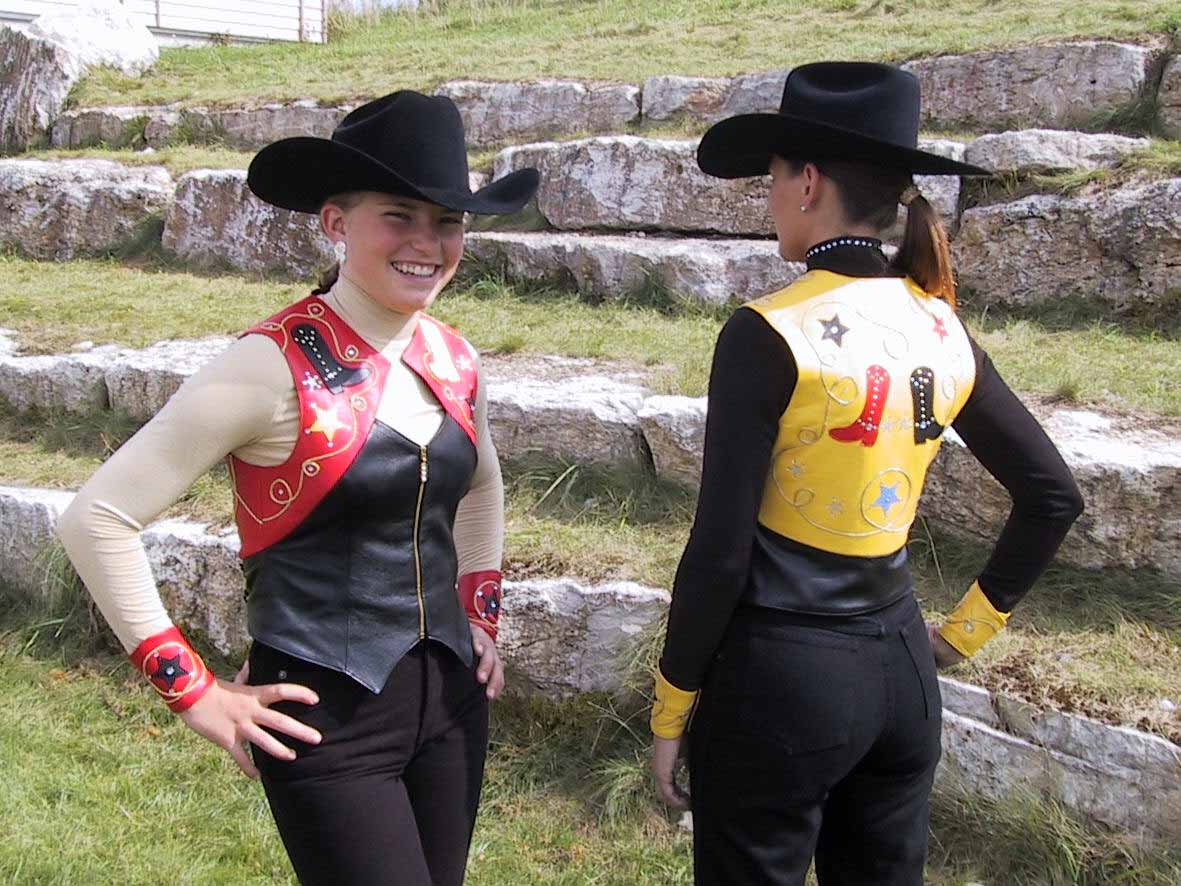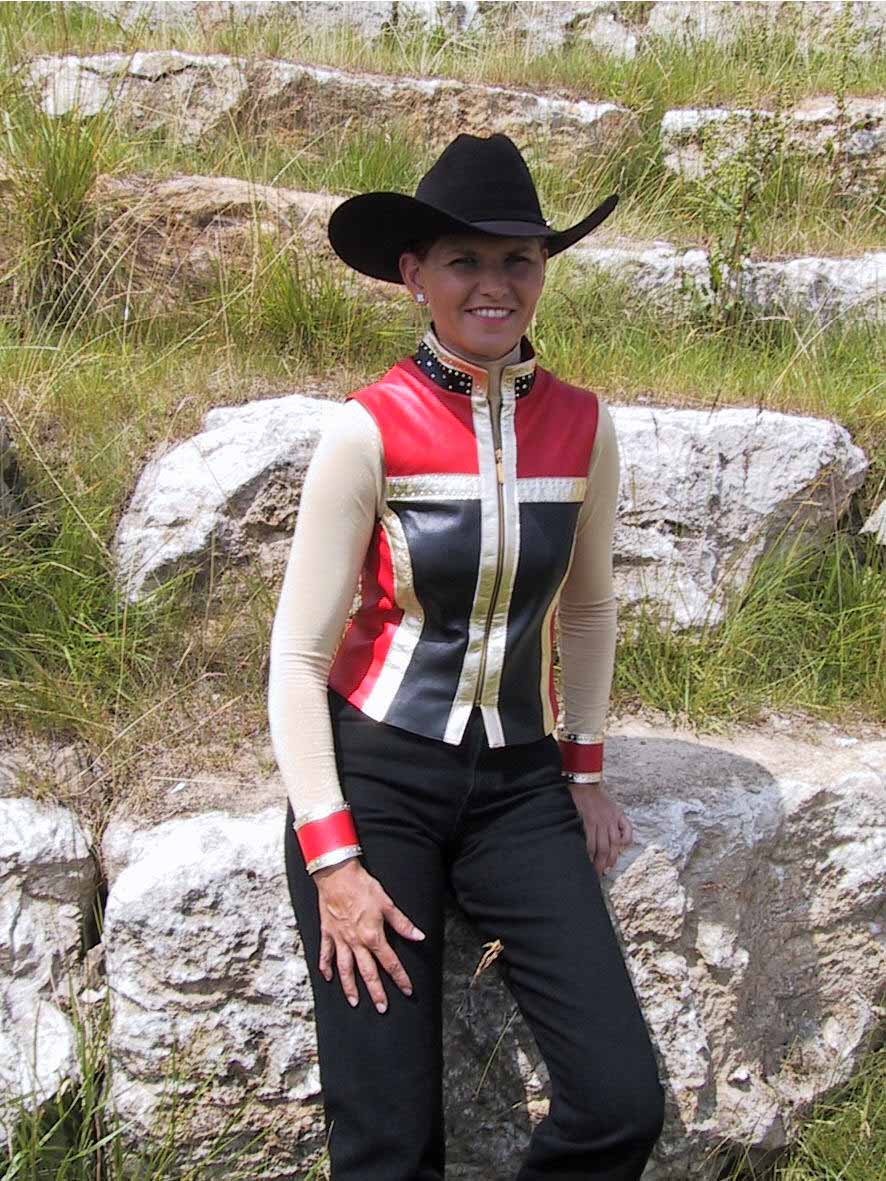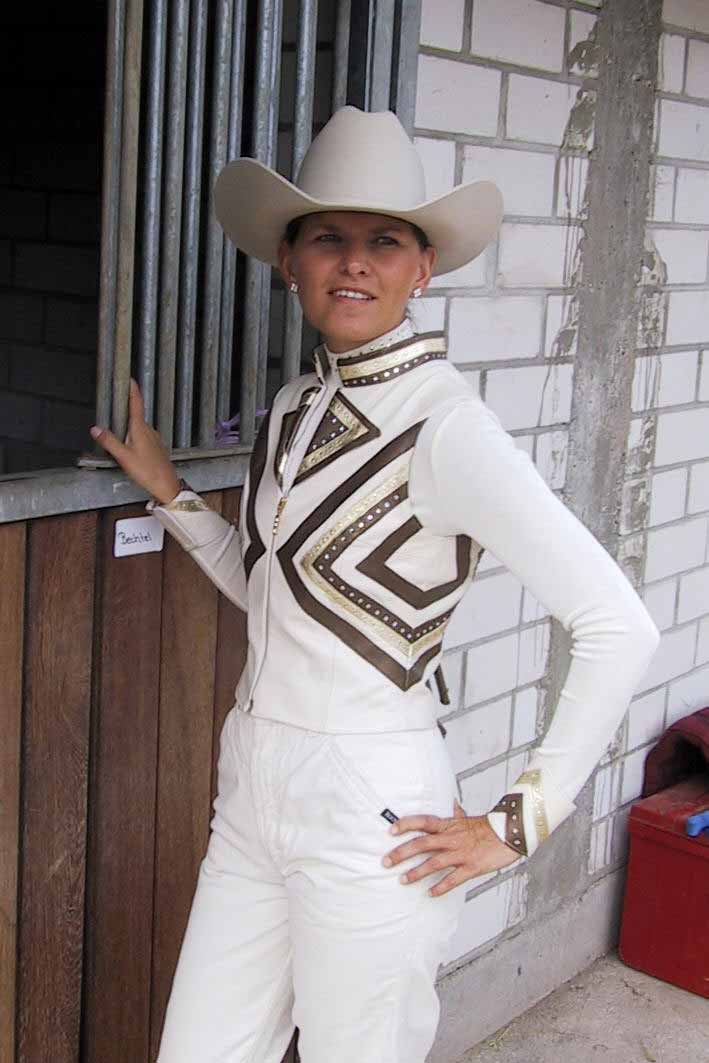 Die Trends der nächsten Saison aus Deutschland - Show.now



Out with the old, in with crystals, appliqué and retro cowgirl! The upcoming show season, while carrying many of last year's trends, showcases some bold ideas. Key word this year - embellishment! Take note from the industry's experts to find your winning duds.
Return to Retro

An alternative to slinkies and vests, riders are going retro. Flashy, button-down "Dale Evans-style" shirts in bright colors with traditional western yokes and cuffs are stealing the pleasure and horsemanship arenas, says Jane Terrell, president of On The Rail Clothing Company. Complete with pearl snaps, piping and old-fashioned embroidered designs, the shirts are a tight fit, creating a neat, sharp look from a casual concept. A neck scarf completes the ensemble.
Slinky Sensation

Slinkies are marching on in the show ring, says Suzanne Drnec, owner of Hobby Horse Clothing Company. In new, body conscious technical fabrics, slinkies are holding their own - even without vests - in horsemanship and western pleasure. Cuffs, appliqué and sleeve trims can dress them to perfection. In addition to solid slinkies are sequined and rhinestoned versions, sometimes with intricate designs, says Shirley Magnusson of Jo Anne E's Show Apparel points out.

Left, a vest with chocolate accents is paired with the new rhinestoned slinky and coordinating earrings. Right: Retro cowgirl styles can be found on jackets, vests and button downs.
Love That Leather
While vests have flaunted leather for several years, showmanship jackets are also crossing over, Cynthia Croniger of Dazzling Designs says. Lightweight fabrics with leather accents are great for summer, while full-leather jackets are hot for fall. Showmanship jackets are also taking on new shapes. A fair share of this season's jackets will hit just below the waist to do double duty in the western pleasure ring.
Appliqué

Although the embroidered designs of the retro look are darling close up, the details can get lost across the arena. For a nice look that shows up well from a distance, Drnec suggests appliqué, a popular two-tone technique for leather and fabric. She says big design patterns, rather than intricate embroidery, will give you the best shot at getting noticed from afar.
Fun with Fringe
Some riders are taking this year's retro look a step further by adding small amounts of fringe to their ensemble. Cherryl Sergeant of Denny Sergeant's Western World uses short, "finger fringe" made of leather to give a fun western feel without adding movement and bounce. She often pairs the fringe with studwork on vests and retro shirts. With the retro vests, Sergeant adds matching cuffs to pull the outfit together.
Side View
Because the judges spend most of their time watching riders' sides, Drnec says sleeve trims - decorations along the sides of the sleeves - are perfect for catching attention. Matching cuffs also help complete the profile.
Animal Instinct

The designers agree - animal prints are still around, but only in moderation. This season, they're perfect as accessories, such as scarves, lapels or collars.
Fabulous Fur
Fur collars are taking hold at the high-end shows for one-of-a-kind looks, says Magnusson. In solid colors or animal prints, the collars usually are detachable from a showmanship or western pleasure jacket, offering two looks in one.
Color Me a Winner
Hands down, this year's popular color among the experts is chocolate brown. It's the new neutral color, says Sergeant. She says it looks classy and sophisticated paired with turquoise and cream. Terrell adds that chocolate is huge this year when paired with light-blue, coral and pink. Other popular colors to keep in mind are champagne, plum, black and white, Croniger says. They're classy, and with the right color horse, they really stand out. Drnec boasts her new color, whiskey, as a popular new choice for sorrel horses, because it closely resembles the horses' color.
Small-brimmed, shapely hats are the new look. Big, bold designs catch the judge's eye from across the ring.
Ride with Pride

A trend that stands the test of time - patriotism. Flag motifs are an extra-popular choice for this season's jackets, shirts and vests. Croniger couldn't keep them on the shelves during the 2001 AQHA World Championship Show.
Scarf it Up

Scarves look great with trendy, retro button-down shirts, but Sergeant takes the scarf concept to new levels by introducing them to vests and slinkies. Use solid-colored scarves to bring out a color from your horsemanship vest or shirt, she says. She also boldly pairs scarves with plain, solid slinkies for an easy weekend horsemanship outfit. Pair solid slinkies with plain or patterned scarves, or try one with crystals, she says.
So Long Sequins

With sequins out of this year's line-up, riders are donning crystals and rhinestones. Some riders are boldly sporting large crystals in multi-colors, says Terrell. Besides regular rhinestones, ringed rhinestones are adorning slinkies, jackets, vests and shirts for a western flare, Croniger says.
Bye Bye Big Bows

More and more, hair is finding itself tucked neatly out of sight. Terrell says small bows or silver barrettes are acceptable, but the best flyaway prevention is tucking your hair into your hat.
Accessorize for the Prize
No matter what the trend, Sergeant says you can't go wrong with traditional sterling silver post earrings that lay flat against your ears. You never want jewelry that dangles, swings and bounces, she warns. Don't be too gaudy with bold colors and big shapes. The exception, she says, are classy necklaces with large pendants, which are glistening their way into most halter events. As Drnec explains, today's outfits are so elaborate and embellished, that you don't need much jewelry to complete the ensemble.
Left: Appliqué dresses up any show outfit. Right: With creative designs, Old Glory makes big waves at this year's shows.
Fancy Footwear

We're seeing more and more crepe soles in the arena, Terrell says. But for a sure-fire, clean look, she and Drnec suggest matching ropers for a flattering, one-tone look. Sergeant understands the crepe sole craze because of their comfort, so she found a new crepe sole trend on the market, with soles that match the boot color, which can be as dressy as ropers. Still, she insists that the boots must match the outfit, especially in showmanship, to avoid drawing attention to your feet.
Top it Off

Hats are taking on smaller and shapelier brims that let judges see more of riders' faces, says Drnec. She also notices bound brims hitting the scene, for a spiffy, slightly retro alternative to the traditional felt hat.